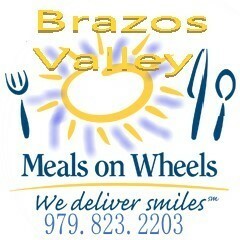 Food Services primary focus is to provide nutritional services to the elderly population of the Brazos Valley. These services are provided through four programs: Congregate Meals served at Senior Centers, Home Delivered Meals, Meals on Wheels and CBA Meals and Private Pay Meals for those who do not qualify for the other programs offered but want to insure they receive the daily nutrition they require.
Do you need help with meals or know someone who does?

At Brazos Valley Community Action Programs, we have several programs which may be of help to you.

Home Delivered Meals are for persons 60 years of age or older who are home-bound and unable to prepare or secure a meal for themselves.
CALL (979) 823-2203

Private Pay Meals are for persons wishing to have a hot, noon-time meal delivered to their home. There is a cost per meal for this service.
CALL (979) 823-2203

Meals on Wheels are for persons living at or below poverty level, disabled and unable to prepare a meal for themselves.
CALL (979) 823-2203

All meals meet the recommended dietary allowances established by the Food and Nutrition Board of the National Academy of Science.

Meals on Wheels is a Community Partner of United Way of the Brazos Valley.
​