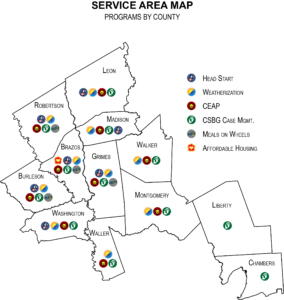 Mission Statement
It is the mission of Brazos Valley Community Action Programs to assist in the empowerment of individuals, families, and communities to reach their full potential economically, educationally, health-wise, culturally, and socially.
History of BVCAA, Inc.
BVCAA, Inc. was chartered in 1972. Click here to learn more about the Agency's growth and impact since we began. Starting Jan 1st 2017, BVCAA split into two companies, BVCAP and HealthPoint.
What Are Community Action Agencies?
We are only one of hundreds of CAAs across the nation. Click here to learn more about Community Action Agencies and the changes they make in the communities.